NEWS
| | |
| --- | --- |
| | The vocal ensemble KANTIKA is concentrating on sacred mediaeval music and has steadily widened their repertoire over the years. Focussing on the roots of western mediaeval music, KANTIKA's effects include the cult of local saints as well as forgotten liturgies. So, the unique musical style of KANTIKA combines the soul of early chants with a refined contemporary sound presented in buildings of |

exceptional architecture.It is my deep desire, beyond singing mediaeval music, to meet scholars and artists, to enter into an exchange with the audience after a concert or to respond to questions during lectures...or to sing with children and make them familiar with their cultural heritage.

In 2009 the ensemble realized a truly passionate project about a mediaeval manuscript from Navarra/ Spain: « La Música del reyno - Music from the Archives of the Roncesvalles Abbey ». This programme, commissioned by the government of Navarra, has been performed at several places along the road to Santiago de Compostella. The recording of the programme will be released at the end of this year.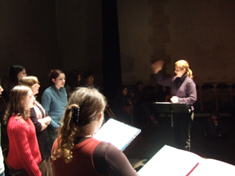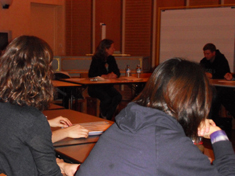 Fresnes, 2007
CNSM de Paris, 2009
For our new label CHRISTOPHORUS, we recorded the fine chants of the Llibre Vermell de Montserrat in 2009. KANTIKA performs this programme avoiding any exaggeration and so being accompanied by only a few instruments as fiddle, rebec, recorder and tambourine. The singers with different European backgrounds take part in this interpretation, each with their own color of voice, trying to make this recording lively and full of contrasts.
Kristin Hoefener



---
KANTIKA is a member of the French Fédération des Ensembles Vocaux et Instrumentaux Spécialisés (Fevis)
http://www.fevis.com/index.php?page=ensemble&fiche=kantika
| | |
| --- | --- |
| The French Foundation Orange is sponsoring the ensemble since several years. | |
http://www.orange.com/fr_FR/mecenat/fondation/culture/ensembles_vocaux.html